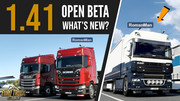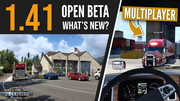 Well, good news everyone! SCS has finally made officially to make both Truck sims into a multiplayer and single-player game.
Right now it's still in beta and it's being called "Convoy", Right now lots of players are testing the new functions and are enjoying how the game goes.
Personally, I haven't checked it out or played it yet as I'm waiting to get into the mood, and right now I do not have the mood to play or test it.
As for now we do not know what can and cannot be used within this new multi-stage! can we use mods? does the system use defaults if others do not have a particular mod and who will be hosting the MP? lots of questions may still need to be answered by SCS, however, we do now that they are working and adding stuff to these new stages as they progress.
What I do know is that it has TRAFFIC so you will see AI driving, unlike the Truckers MP who has removed them, and what I have heard is that everything is at sync with other players so if it rains with you it will also rain with other players, I sometimes had a problem with the unofficial mp where the sync was lost so if it was dark others it was sunny..
for now, this is what SCS say about what they are doing and planning:
The current feature list includes:

Any player can host and create their own private sessions for up to 8 people
Ability to haul the same contracts/jobs together from the same company and to the same destination
Synchronized AI traffic
Synchronized time and weather
Synchronized paint jobs, truck accessories, cabin accessories, and more
Ability to communicate with other drivers via CB radio broadcast (X key), quick replies (Q key), or text chat (Y key)

Notable issues / not yet implemented:

Mods are not supported in the initial release.
Players can currently join only if they have the same set of cargo and map DLCs installed as the host has.
Weather is not fully synced (only good/bad weather).
Cables for remote trailers aren't rendered.
When using an owned trailer, there might be a company trailer spawned in the same location you are supposed to go to to load your cargo.
AI vehicles might disappear when a player disconnects.
Lifting bridges are not synchronized. They will be stationary for the initial release of Convoy.
Sounds for trucks of other players are a work-in-progress.
Sharing of the World of Trucks external contracts is not yet allowed.
CB radio broadcast (hotkey "X") interferes with the text input line.
Cargo on an owned flatbed might sometimes intersect with the trailer
The on-screen map in Convoy "M" zooms out together with chat scrolling in the Route Advisor.

Intended changes/limitations while in Convoy session:

Time progression rate does not change when entering a city.
The time in a Convoy session will advance to match the host's time, but it is only visual – the economy time is not affected (If you had 2 hours remaining to finish the job before joining the Convoy, you should still have the same time remaining to finish your job).
Special Transport jobs are not allowed. You can't join a Convoy session with such a job active.
Dynamic collisions are disabled for parked vehicles (you can't push a parked vehicle away, but you will still collide with it).
Knocked-down traffic signs are not visually replicated for other players; their collisions are simulated locally and works only in close proximity to the player.
Toll gates aren't synchronized, however, the opening is based on proximity like for AI vehicles.
AI vehicle colours may differ after some time (so cached vehicles can be reused to limit memory consumption).

Other features coming with 1.41:
Time and weather adjustments in photo mode

Quick travel

California reskin part 1 including 7 agricultural stations and a road layout rework

New icons in the map legend
As for us -GOW- we will be checking some things up to see if it will be possible to create a company with trucks and to fill them up with our teams doing solo or convoy missions, however, I still need to make it into the game and start from scratch as I use lots of mods so I need to build a new profile without mods to see how everything works and goes when complete I will let everyone know on our gaming forum, also if this goes into the right way we will be also building our discord for this as a way for CB unless it is inside the game. but I think there was one. but as said again this is for a future look as it is still beta and everything can go both ways as being canceled or still being a long beta.
So let's get rolling and hauling!
See you all in Multiplayer!!